Japan, you are the asia's pride. . .
2011.04.20 Wednesday 11:07
Japan, you are the asia's pride. You've proved many times over and over again that nothing can put you down long enough. Like the rising sun you rise up each time following devastating situation in which case other countries would cripple and accept defeat. I know this time it seems to be worst but consider it as test of time. Please rise up, for others as well as for yourself. I have utmost confidence that you will do it. Keep the spirit high...Love from Nepal
日本はアジアの誇りです。皆さんは何度も何度も繰り返し皆さんを長く打ち負かすものなど何もないことを証明してきました。皆さんは、昇る太陽のように、他の国々なら無力にされ負けを認めるような破壊的な状況のその度に立ち上がります。今回が最悪な状況だということは知っていますが、時の試練だと考えて下さい。どうかあなた自身のためにも他の皆のためにも立ち上がって下さい。皆さんはそれができると強く確信しています。志を強く。ネパールから愛を込めて。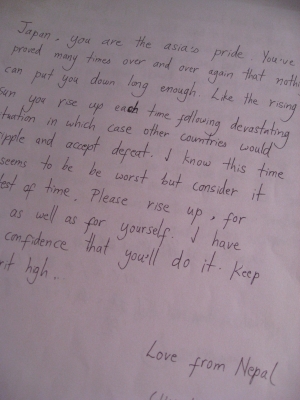 This was written by a Nepalese who seems to be in his 20's.
You can see my work more below.
www.haruyasuyanagi.com
Copyright(c) 2011 Haruyasu Yanagi All rights reserved.