NEW YORK LOVES YOU. . .
2011.04.21 Thursday 09:47
NEW YORK LOVES YOU. A LOT. WE FEEL UR PAIN. WE THINK OF U EVERYDAY. HANG IN THERE. WE WILL HEAL TOGETHER AND CELEBRATE LIFE AND EVERYTHING THAT MAKES JAPAN SUCH A WONDERFUL PLACE. SEE YOU SOON!
ニューヨークは皆さんを愛しています。とても。私たちは皆さんの痛みを感じています。毎日皆さんのことを考えています。頑張ってください。私達は一緒に、癒し、人生と日本をそのように素晴らしい場所にするすべてのものを祝います。それでは!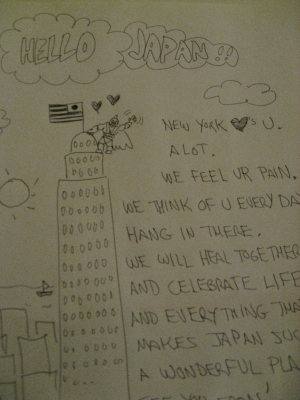 This was written by a man who seems to be in his 20's or 30's. He drew a Kinnikuman : "Mascleman" , which is a main character in a Japanese manga.
20,30代くらい
男性のメッセージです
。キン肉マンの絵を描いてくれました。