I & my family we're . . .
2011.04.21 Thursday 10:01
I & my family we're very sorry for the people of Japan after what happened there due to the terrible earthquake. We are very touched & will keep the people of Japan in our daily prayers for their complete recovery from that catastrophe. God bless all of you!
私たち家族はひどい地震が起こったことによって被害を受けている日本の皆さんをとても気の毒に思っています。私たちはとても心が動かされ、その大災害からの完全な復興を祈って毎日日本の皆さんを思ってお祈りしています。神の恵みが皆さんすべてにありますように!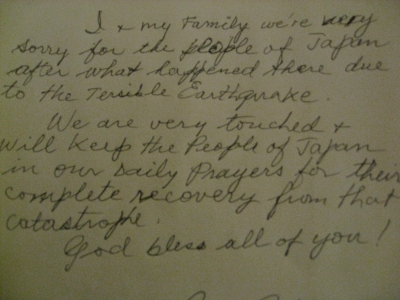 This was written by a middle-aged man. He wrote this taking his time long.
初老の男性のメッセージです。時間をかけてゆっくり書いてくれました。
You can see my work more below.
www.haruyasuyanagi.com
Copyright(c) 2011 Haruyasu Yanagi All rights reserved.