To the people of Japan, There have been . . .
2011.04.25 Monday 08:58
To the people of Japan, There have been a lot of disasters and ruins which have affected your lives in mental and physical sense. However, from the long history known about the great wisdom that Japanese people have for Japan for their country, for the immense altruism that you have to overpass so many blocks, obstacles and atomic bombs you are the modern Samurais that encourage the whole world, all the nations of this globe to take our lives with a less serious feelings of destroying this world. You have been the most well-known example of the essence in life to get up and stand up on your feet when all the world around you has collapsed with the speed faster than the light and with much more love and passion to grow for the country itself. With much love and gratitude to my people of Japan from your people of Kosobo
日本の皆さんへ、精神的かつ身体的に皆さんの生活に影響するたくさんの災害と破壊が起きています。しかし、長い歴史の中で、とても多くの障害や原子爆弾に打ち勝つために日本人が持っている強力な利他主義に向かう偉大な知恵について知られています。皆さんは全世界、全ての国がこの世界をあまり破壊しないで生きていけるように勇気づける現代の侍です。皆さんは、全世界が光よりも速いスピードで崩壊した時、国の発展のため多くの愛と情熱を持って自ら立ち上がる一番良く知られた生命の本質の例です。コソボから日本の皆さんへ、たくさんの愛と感謝と共に。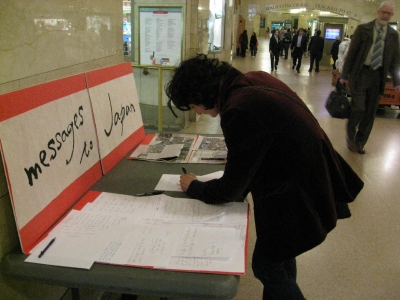 This was written by a woman who comes from Kosovo and seems to be in her 20's or 30's. She told me that she was interested in Akira Kurosawa's movies.
20,30代くらいのコソボ人の女性のメッセージです.
黒澤明の映画に興味を持っていると話してくれました。
You can see my work more below.
www.haruyasuyanagi.com
Copyright(c) 2011 Haruyasu Yanagi All rights reserved.