Hello : Land of the Rising Sun . . .
2011.05.31 Tuesday 02:54
Hello: Land of the Rising Sun. Hope is a bright shining light which keeps darkness at bay. Every morning you wake up and see the new sun. Smile take in the rays of hope
こんにちは。太陽が昇る土地。希望は闇を入り江に引き止めておく明るく輝く光、毎朝あなたは起き上がって真新しい太陽を見る。微笑みは希望の光線を取り込む。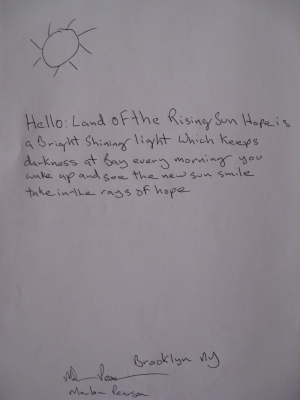 This is a quote from a poem and was told by a young man who was working for USP.
USPで働く若い男性のメッセージです。詩の一節だそうです。
You can see my work more below.
www.haruyasuyanagi.com
Copyright(c) 2011 Haruyasu Yanagi All rights reserved.