Dear Japan, The depth of your . . .
2011.05.31 Tuesday 03:33
Dear Japan, The depth of your tragedy is felt throughout the world, I am in awe of your strength and beauty in moving forward. If there is a God, I hope he relieves your suffering and sacrifice. The losses of the victims are great, and they will be remembered with sorrow and respect. I am proud of you, Japan, and I weep for you. Always,
親愛なる日本、皆さんの深い悲劇は世界中で感じられています。私は前に進んでいる皆さんの強さと美しさに畏敬の念を感じています。もし神がいるのなら、皆さんの苦痛と犠牲を和らげてくれるように願います。多くの犠牲者が出たことは大変なことです。彼らは悲しみと尊敬を持って思い出されるでしょう。私は日本を誇りに思い、皆さんのために泣きます。いつも、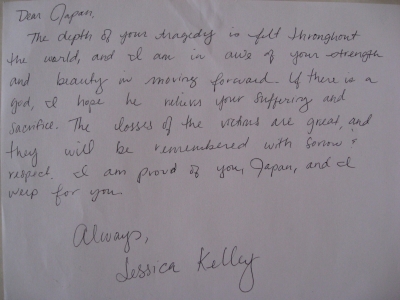 This was written by a woman who seemed to be in her 20's.
You can see my work more below.
www.haruyasuyanagi.com
Copyright(c) 2011 Haruyasu Yanagi All rights reserved.