Hi! My heart goes out to . . .
2011.06.01 Wednesday 12:43
Hi! My name is Skyla. My heart goes out to Japan and all your children. I am glad your safe! Love Skyla . . .
こんにちは!私はSkylaです。私の心は日本と日本のすべての子供たちに向いています。皆さんが無事でとても嬉しいです。Love, Skyla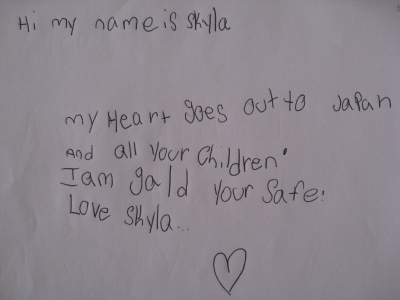 This was written by a young girl who was with her mother and brother. She wrote this as being taught words by her mother.
お母さんとお兄さんと一緒に来てくれた女の子。字をお母さんに教えてもらいながら書いてくれました。
You can see my work more below.
www.haruyasuyanagi.com
Copyright(c) 2011 Haruyasu Yanagi All rights reserved.