HELLO, MY PRAYERS TO . . .
2011.06.01 Wednesday 13:03
HELLO, MY PRAYERS TO EVERYONE IN JAPAN.
こんにちは、日本のすべての皆さんに私の祈りを届けます。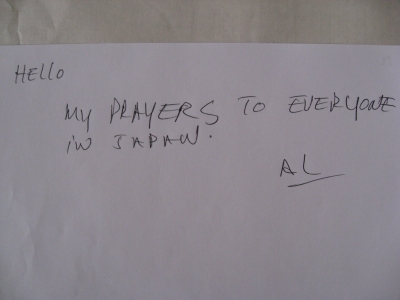 This was written by a man who came from Haiti. He told me that he was willing to help me gather messages.
ハイチ出身の男性のメッセージです。メッセージを集めるのを手伝うと申し出てくれました。
You can see my work more below.
www.haruyasuyanagi.com
Copyright(c) 2011 Haruyasu Yanagi All rights reserved.