Dear my friend, Japan, Hi, I'm . . .
2011.07.05 Tuesday 04:38
Dear my friend, Japan, Hi, I'm Jonghyun who is from Korea. When I heard the news about this terrible earthquake in your country at first, I was really shocked. It was horrible. I worry about you guys' safety, now. I'm sorry because I can not do anything excepting some words and pray in my heart. I'm praying for you everyday.I hope that this situation is getting better, and you guys overcome it. You have to know this ; You are never alone. Korea, US, France ... We all are your side. And I know that you are strong. Don't give up. Japan. Don't give up. I believe you can do. Sincerely,
親愛なる私の友人、日本、こんにちは、私は韓国人のJonghyunです。私が最初に日本でのこの悲惨な地震のニュースを聞いたとき、とてもショックでした。実に恐ろしいです。私は皆さんの安全を危惧しています。私には幾らかの言葉がけと、心の中で祈ることしかできないので、申し訳ない気持ちです。私は毎日皆さんを思って祈っています。この状況が改善され、皆さんが乗り切っていかれることを願っています。このことを知っていて下さい、皆さんは決して一人ではなく、韓国、アメリカ、フランスなど私達皆が皆さんの味方だということ。そして、皆さんが強いことを私は知っています。諦めないで、日本、諦めないで。皆さんはできると信じています。心より。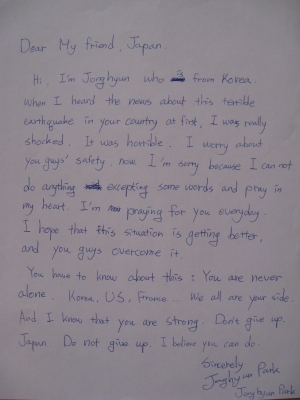 This was written by a Korean student in Rennert, a language school in New York.
ニューヨークにある語学学校の韓国人生徒さんのメッセージです。