I heard that a strong earthquake . . .
2011.07.05 Tuesday 05:22
I heard that a strong earthquake broke out in Japan. Every time I watch the news, I'm really sorry for and worried about the people in Japan. But whenever you stand face to face with a crisis, I can see that you overcome it in indefatigable spirit. I believe that you will get passed this disaster, because Japan is a strong country. I and all Koreans pray for you, Japan. Keep your head up Japan. がんばって日本!
日本で大きな地震があったと聞きました。そのニュースを見るたびに、私は日本の皆さんをとても気の毒に思いそして心配しています。けれど皆さんが危機に直面する時はいつでも、不屈の精神でそれを乗り越えてきたと理解しています。皆さんはこの大災害を乗り越えることを信じています。なぜなら日本は強い国だからです。私達韓国人は日本を思って祈っています。希望を持ち続けて下さい。がんばって日本!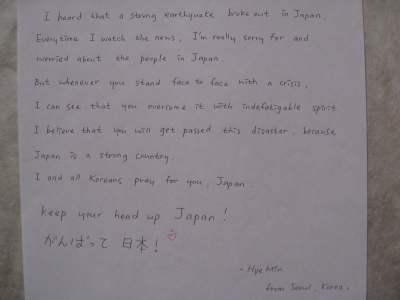 This was written by a Korean student in Rennert, a language school in New York.
ニューヨークにある語学学校の韓国人生徒さんのメッセージです。
You can see my work more below.
www.haruyasuyanagi.com
Copyright(c) 2011 Haruyasu Yanagi All rights reserved.