Natural disaster effects are more . . .
2011.07.05 Tuesday 05:26
Natural disaster effects are more painful than war ones. They come without warning, while war can be prevented. A tsunami is an extraordinary and sublime event, which shows humanity's weakness in front of nature. Nature is a wild animal which can neither be domesticated or killed, so we must acquiesce it. I would be there to help you my friends, but I can't. I'm sure you are going to recover from the injuries and come back to fight against the chronic beast again.
自然災害の影響は戦争のそれよりも痛ましいものです。それは警告なしでやってきます、戦争を防ぐことができるのとは違って。津波は 尋常ではない出来事です。それは自然には人間が太刀打ちできないことを示しています。自然は飼いならされるか殺されるかしかない野獣とは違い、我々が従うべきものです。私はそこにいて皆さんを助けることができればどんなに良いかと思います。皆さんがその傷から回復し、再びその頻発する自然災害に立ち向かうことを確信しています。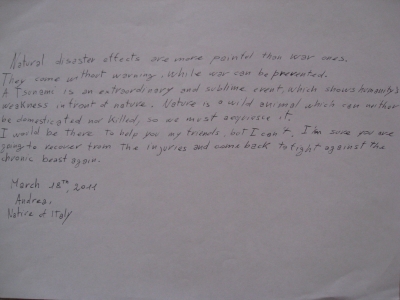 This was written by a Italian student in Rennert, a language school in New York.
ニューヨークにある語学学校のイタリア人生徒さんのメッセージです。
You can see my work more below.
www.haruyasuyanagi.com
Copyright(c) 2011 Haruyasu Yanagi All rights reserved.