To Japan, I never imagine a disaster . . .
2011.07.05 Tuesday 05:32
To Japan, I never imagine a disaster this big in Japan could happened. I always think of Japan as an organized country which is ready for everything. But unfortunately in this case nature showed how strong it is and How unexpected. I'm so sorry for that. But everybody knows you are a population with a lot of energy and a determined soul. I'm sure that you'll overcome that situation. The thoughts of the whole world are with you.
日本へ、私は日本でこのような大きな災害が起きたことを想像できません。私はこう思っています、日本はどんなことにも準備ができている組織化された国だと。しかし不幸にも、今回は自然がいかに強く予想不可能なものかを見せつけました。私はそのことをとても気の毒に思っています。しかし、皆さんがエネルギーに溢れ意志の強い人々だということをみんな知っています。皆さんがこの状況を乗り切ることを私は確信しています。世界中の思いは皆さんと共にあります。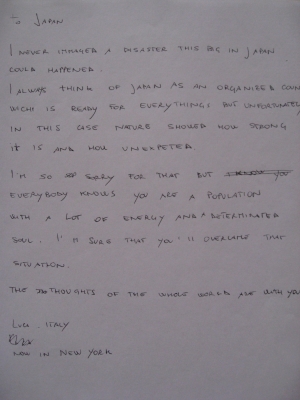 This was written by a Italian student in Rennert, a language school in New York.
ニューヨークにある語学学校のイタリア人生徒さんのメッセージです。
You can see my work more below.
www.haruyasuyanagi.com
Copyright(c) 2011 Haruyasu Yanagi All rights reserved.