Dear, Japan. I'm so sorry. I heard a lot . . .
2011.07.05 Tuesday 05:39
Dear, Japan. I'm so sorry. I heard a lot news of the earthquake. Everyday people are worried about your family and your country. Even though I don't have any relations who live in Japan. I'm really touched and sad about that kind of disaster and horror. If I lived in Japan, I would help you in specific ways, but since I'm far away so that I'm praying for you to overcome this difficult situation. Don't give up anything! I remember clearly that you solved these problems before. This time you can do it again. Don't forget that we are by your side.
親愛なる日本、私はとても気の毒に思っています。私は地震のニュースをたくさん聞きました。毎日人々は皆さんの家族や国のことを心配しています。たとえ私に日本には親族がいなくてもです。私は本当にこの種の大災害と恐怖について心動かされ悲しんでいます。もし私が日本に住んでいたら、私にできる方法で皆さんの助けになるでしょうが、私は遠く離れているので皆さんがこの困難を乗り切るように祈っています。どんなことも諦めないで下さい。私は皆さんがこの種の問題を以前に解決していることをはっきり憶えています。皆さんには今回もできるはずです。私達がそばにいることを忘れないで下さい。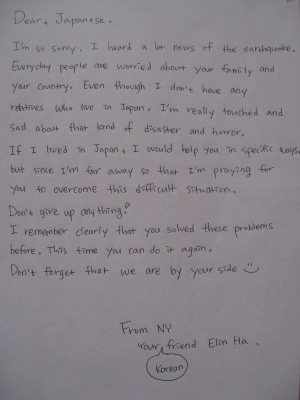 This was written by a Korean student in Rennert, a language school in New York.
ニューヨークにある語学学校の韓国人生徒さんのメッセージです。
You can see my work more below.
www.haruyasuyanagi.com
Copyright(c) 2011 Haruyasu Yanagi All rights reserved.