I'm really sorry to hear that . . .
2011.07.05 Tuesday 05:45
I'm really sorry to hear that your country is having a difficult time. Words are inadequate to express the sadness we feel. I hope that you will overcome this situation as soon as possible. Even though it is hard to accept the situation right now, your nation will stand up again firmly. Actually the world is impressed by your country and how well behaved and calm you have been in such a terrible disaster. Keep your head up.
皆さんが困難な時にあると聞いて私は本当に気の毒に思っています。言葉は私たちの感じる悲しみを表現するには無力です。 皆さんができるだけ早くこの状況を乗り越えることを願っています。今はこの状況を受け止めるのが困難としても、日本は再びしっかりと立ち上がるでしょう。実際、世界中が日本と、いかに皆さんがそのようなひどい大災害の中にあって礼儀をもって振る舞い穏やかでいるかに感銘を受けています。希望を持ち続けて下さい。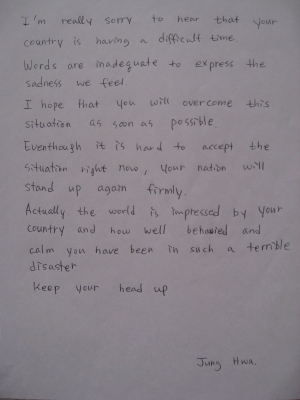 This was written by a Korean student in Rennert, a language school in New York.
ニューヨークにある語学学校の韓国人生徒さんのメッセージです。
You can see my work more below.
www.haruyasuyanagi.com
Copyright(c) 2011 Haruyasu Yanagi All rights reserved.