I couldn't believe it when I heard . . .
2011.07.05 Tuesday 05:56
I couldn't believe it when I heard the news at first. Japan is the one of my favorite countries that I'm going to visit someday. So perhaps I feel more sorrowful than others. I can see my Japanese friends with their sad face. I didn't know how I could tell them about my feeling and condolence. I'm sorry for only telling you these words. A little more patience and all is over. You are not alone. We're always ready to listen to your voices. Our thoughts are with you and your family.
私はそのニュースを初めて聞いたとき信じることができませんでした。日本は私が訪れてみたいと思っている大好きな国のひとつです。だからおそらく、私は他の人よりもっと悲しいのだと思います。悲しい顔をした日本の友人を見ます。私にはどんなふうに彼らに私の気持ちやお悔やみを伝えたらよいか分かりませんでした。こんなことしか言えなくてごめんなさい。もう少しの辛抱です、全ては終わります。皆さんは一人ではありません。私たちはいつでも皆さんの声を聞く準備ができています。私たちの思いは皆さんと皆さんの家族と共にあります。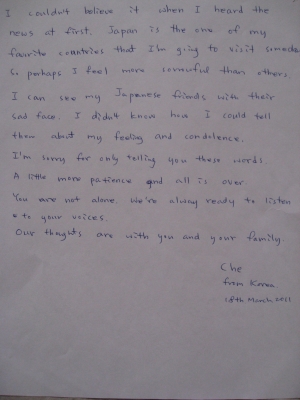 This was written by a Korean student in Rennert, a language school in New York.
ニューヨークにある語学学校の韓国人生徒さんのメッセージです。