To Japanese people, I'm so sorry . . .
2011.07.05 Tuesday 06:01
To Japanese people, I'm so sorry of your difficult time and we are praying your loss to be happy at afterworld. We hope you'll get better soon and we believe you can overcome the situation very well. Most people around the world are cheering for you, too. I'm sorry about the case of the atomic generator factory. We really thank your effort to prevent a disaster from a possible explosion. We believe that situation won't happen. thanks to your sacrifice. We really respect you. Keep your head up, we're always with you.
日本の皆さんへ、私は皆さんが困難な時にあることをとても気の毒に思っています。私たちは犠牲者の方々が安らかに眠れるように祈っています。私たちは皆さんがすぐに良くなるように願い、そして皆さんがこの状況をとても上手く切り抜けられると信じています。世界中のほとんどの人々も皆さんを応援しています。原子炉の件について気の毒に思っています。私たちは可能性のあった爆発を防いでくれた皆さんの努力に本当に感謝しています。 私たちはその状況が(将来に)起こらないことを信じています。皆さんの犠牲に感謝します。 私たちは本当に皆さんを尊敬しています。希望を持ち続けて下さい、私たちはいつも皆さんと一緒です。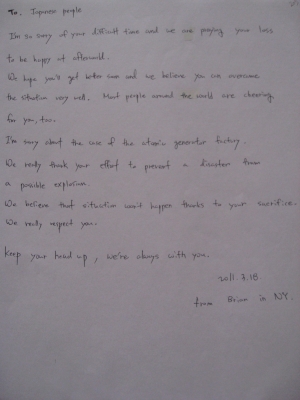 This was written by a student in Rennert, a language school in New York.
ニューヨークにある語学学校の生徒さんのメッセージです。
You can see my work more below.
www.haruyasuyanagi.com
Copyright(c) 2011 Haruyasu Yanagi All rights reserved.